Notice
Subject
The 8th Gwangju Biennale International Curator Course: Callfor Applications
The 8th Gwangju Biennale International Curator Course : Call for Applications
Gwangju Biennale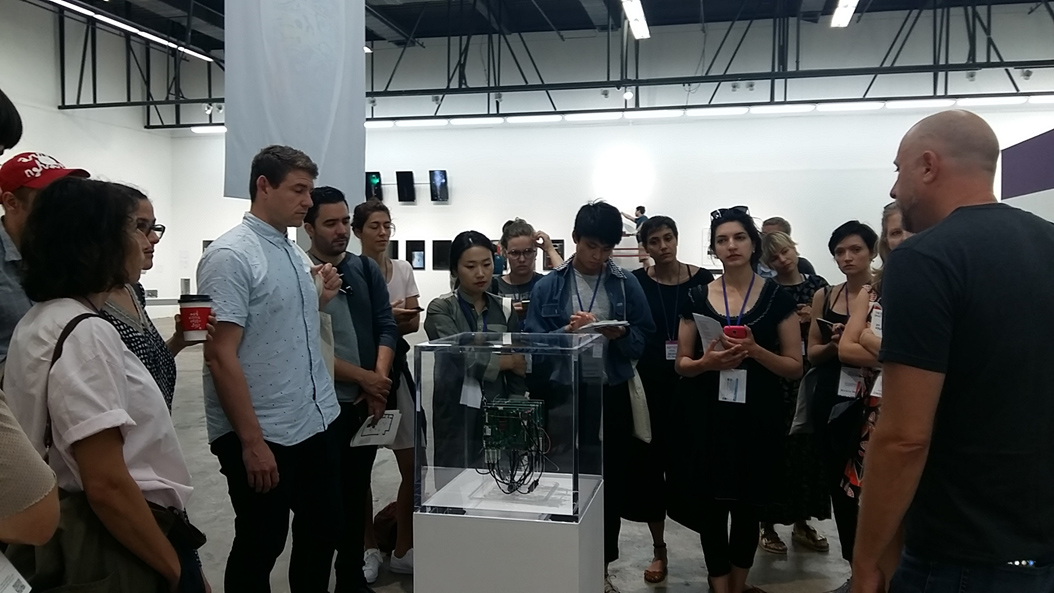 2016 Gwangju Biennale International Curator Course, Courtesy of Gwangju Biennale Foundation
Course dates: August 27(Mon) - September 9(Sun)
Application submission period: May 28(Mon) - June 25(Mon)
Host: Gwangju Biennale Foundation & Asia Culture Center
Principal: Sunjung Kim (President, Gwangju Biennale Foundation)
Visiting Lecturers: Curators of the 12th Gwangju Biennale 2018 and Participating Artists
Gridthiya Gaweewong - Artistic Director of the Jim Thompson Art Center in Bangkok
Rita Gonzalez - Curator and Acting Department Head in Contemporary Art at LACMA
Christine Y. Kim - Associate Curator of Contemporary Art at LACMA
Yeon Shim Chung - Associate Professor, Department of Art History and Theory, Hongik University, South Korea
Yeewan Koon - Associate Professor of Chinese and Japanese Art and Architecture in the Department of Fines Arts, University of Hong Kong
David Teh - Singapore-based Curator and Associate Professor, National University of Singapore
Man Seok Kim - Independent Curator and Coordinator of the Space Heem
Sung woo Kim - Chief Curator of the Amado Art Space
Chong-Ok Paek - Independent Curator and Director of the Research Institute of Art Ecology
B.G. Muhn – Professor, Department of Art and Art History, Georgetown University, United States
★ Special Guest Lecturers ★
Ralph Rugoff (Director of the 2019 Venice Biennale)
Stephanie Rosenthal (Artistic Director of the 20th Biennale of Sydney)
Sebastian Cichocki (Chief Curator at the Museum of Modern Art in Warsaw)
**The above list may be subject to change

The Gwangju Biennale International Curator Course(GBICC) was launched in 2009 as an open educational platform to foster the professional development of curators, theorists, and arts administrators in various fields of contemporary art and design. Since its inception, the course has provided an open platform for collaborative education and expansion of curatorial practice as well as an opportunity for young curators to build an international network. In addition, the course offers a unique occasion to examine the cultural and aesthetic strategy of the biennale, working closely with the biennale director, curators and participating artists.
This year's lecturers will include curatorial team and participating artists of the 12th Gwangju Biennale and several professionals in the field to discuss their rich experience.
The course has been previously led by Barbara Vanderlinden, Dan Cameron, Ute Meta Bauer, Jens Hoffmann, Carol Yinghua, Ruth Noackas, Maria Lind and Joanna Warsza as visiting professors. Past lecturers include: Nathalie Angles, Maurizio Bortolotti, Marco Burno, Yeon Shim Chung, Abraham Cruzvillegas, Byungsoo Eun, Anthony Fontenot, Beatrice Galilee, Eva Franch Gilabert, Massimiliano Gioni, Marieke van Hal, Yuko Hasegawa, Sharon Hayes, Nikolaus Hirsch, Tan Boon Hui, Michelle Hyun, Lu Jie, Mami Kataoka, Jesi Khadivi, Wassan Al-Khudhairi, Alice Kim, Heejin Kim, Sunjung Kim, Soonin Lee, Sohl Lee, Yongwoo Lee, Carol Yinghua Lu, Brendan McGetrick, Jessica Morgan, Reineke Otten, Hyungmin Pai, Marina Pugliese, Heidi Rabben, Francisco Sanin, Anton Scholz, Seung H-Sang, Stephanie Sykes, Tom Trevor, Jelena Vesic, Jun Yang, June Yap, Ai Weiwei, Anton Vidokle, Hito Steyerl, Brian Kuan Wood, Arseny Zilaev, Fernando Garcia-Dory, Bartomeu Mari, Sofía Hernández Chong Cuy, Tommy Støckel, Prajakta Potnis, Bernad Krauss, Mohammad Salemmy, Dora Garcia, Nicholas Mangan, Annie Wan and so on.
In addition to the curator program, the course participants will be given ample opportunities to take part in the preparation of the 12th Gwangju Biennale and visits to museums, galleries, and artists' studios in Gwangju will also be scheduled. The participants are asked to make presentations during the final week of the course.
The 8th GBICC program is particularly provided by a joint program between Gwangju Biennale and Asian Culture Center(ACC), and Gwangju Biennale and ACC will grant tuition and accommodations to all of the selected participants for the entire course. Participants will be responsible for their round-trip air fares to and from Gwangju and living expenses during their stay. Since the course is designed to provide young curators with opportunities to receive in-depth training, the age restriction for applicants has been set to 35 and under. The entire course will be conducted in English.

Application
Submission period: May 28 – June 25, 2018
Requirements: all documents should be written in English.
Application must include:
-application form (downloadable from www.gwangjubiennale.org)
-CV
-motivational statement explaining the applicant's interests and the purpose for applying(1,000 words max.)
-supporting materials: one or two copies of the most relevant published materials for curatorial/exhibition related projects that the applicant participated in.
** Submitted documents and/or materials will not be returned.
Submission process: Send by email _ curatorcourse@gwangjubiennale.org
Notification: Successful candidates will be contacted in the beginning of July 2018.
For more information contact _ +82 62 608 4242

The 8th GBICC program will be running as a joint program between Gwangju Biennale Foundation and Asian Culture Center(ACC)