Defne Ayas and Natasha Ginwala Will Be
the Artistic Directors of 13th Gwangju Biennale in 2020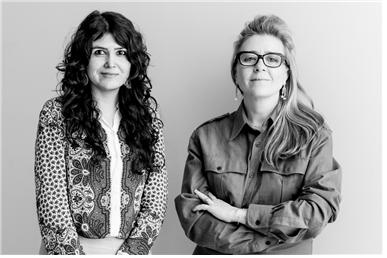 From left: Natasha Ginwala and Defne Ayas. Photo: Victoria Tomaschko
The Gwangju Biennale Foundation announced today that Defne Ayas and Natasha Ginwala will be the Artistic Directors of the 13th edition of the Gwangju Biennale, in 2020.
As curators, Defne Ayas and Natasha Ginwala have been engaged in conceiving daring exhibition and biennale formats within diverse geographies, in each instance composing collaborative contexts and interdisciplinary frameworks that also provide historical anchoring and engagement with local conditions. In Gwangju, they intend to remain committed to the metabolic process of commissioning artworks and live performances, while continuing their active research in models of understanding shaped by the specificity of socio-political realities, complex historiography, cultural knowledge systems, and ancestral traditions, beyond the horizons of western reason.
Defne Ayas has served as a director and curator to several cultural institutions and research initiatives across the world, including the Netherlands, China, the United States and Russia. Currently working as a Curator at Large at V-A-C Foundation in Moscow, Ayas was the director of Witte de With Center for Contemporary Art in Rotterdam (2012-2017). She has served as curator of the Pavilion of Turkey in the 56th Venice Biennale (2015); co-curator of the 6th Moscow Biennale (2015); co-curator of the 11th Baltic Triennial (2012), and curator of New York-based Performa.
Natasha Ginwala has curated several international exhibitions and is a widely published arts writer. Ginwala is currently Associate Curator at Gropius Bau, Berlin. Recent projects include Contour Biennale 8 and she was part of the curatorial team of documenta 14 (2017). She is artistic director of the interdisciplinary arts festival Colomboscope in Sri Lanka. Ginwala was a member of the artistic team for the 8th Berlin Biennale for Contemporary Art (2014), curatorial advisor and public programmes curator of The Gujral Foundation project My East is Your West at the 56th Venice Biennale; and curated The Museum of Rhythm at Taipei Biennial 2012 and at Muzeum Sztuki, Łódź (2016).
For the 13th Gwangju Biennale, the two Artistic Directors envision a dynamic program that includes an exhibition, performance program, publishing platform, and a series of public forums that bring together artists, scientists, and system thinkers. They will collectively explore artistic approaches and scientific methods that examine the entire spectrum of intelligence—that emanating from spirit beings, indigenous knowledge worlds, shamanistic cosmologies, and non-human cognition as well as from the machine brain and algorithmic regimes governing the world and their resulting interplay. The secret potential of spectral forces and shadow presences will be tapped into as part of the biennale-making process and its mechanisms, especially those threshold spaces between and beyond mystification and quantification.
The appointment of Defne Ayas and Natasha Ginwala as the Artistic Directors of Gwangju Biennale 2020 comes after a series of consultations and meetings held by the Gwangju Biennale Foundation with the Board of Directors and the International Advisory Committee, which included among its members Jessica Morgan, Director of Dia Art Foundation, New York; Stephanie Rosenthal, Director of Gropius Bau, Berlin; Mami Kataoka, Deputy Director of Mori Art Museum, Tokyo; Yongwoo Lee, President of Shanghai Project, Shanghai; and Yeon Shim Chung, art historian, curator, and professor at Hongik University. Jessica Morgan noted, regarding their biennale proposal, "I found compelling the future thinking of the project, not simply a critique of our contemporary surroundings or moment in time but a position that views 'potential' as key to our possible futures," while Mami Kataoka delivered her excitement: "I can anticipate a beautiful and poetic exhibition."
Ayas and Ginwala stated, "We look forward to working in Gwangju, seeped as it is in the history of resistance. It provides an impetus to extend further analysis of the notion of swarm intelligence, today's strategies of revolutionary activity, and the push back unleashed through the surveillance state and machinic warfare—generating an effective link with the democratization movement revisited from a contemporary perspective."
At the occasion of their appointment, Sunjung Kim, President of the Gwangju Biennale Foundation, stated, "The Gwangju Biennale Foundation is delighted to have Ayas and Ginwala as its Artistic Directors for the 13th edition of the Gwangju Biennale. We hope that their involvement will strengthen the Biennale's commitment to the history and context of Asian and international contemporary art and biennales."
The Biennale will open in September of 2020, with further details to be announced.
______________________________________________________
Notes to Editors
Press Contacts:
Bella Jung, Gwangju Biennale Foundation
bellajung@gwangjubiennale.org / +82 62 608 4221 /+82 10 4277 9997