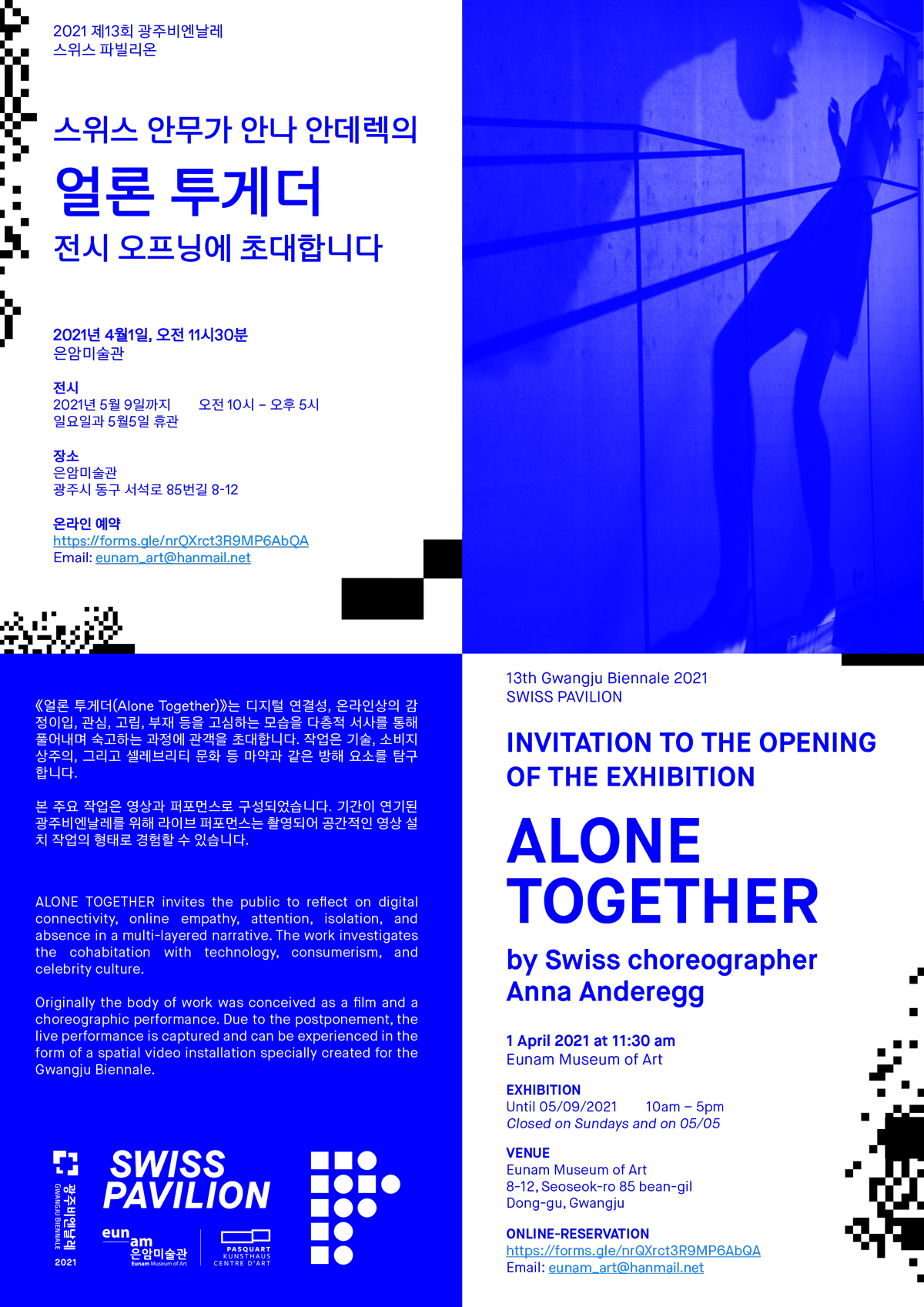 Kunsthaus Pasquart, Eunam Museum of Art, Alone Together
Live Performance :

2021.02.26. – 2021.03.03. 11:00-17:00 (02.28 Sunday Closed, 03.01 Open)

Installation :

2021.03.04. – 2021.05.09. 10:00-17:00 (Closed on Sundays)

Venue :

Eunam Museum of Art, 8-12, Seoseok-ro, 85 bean-gil, Dong-gu, Gwangju

Introduction :
Co-organised by Kunsthaus Pasquart(Biel/CH) and the Eunam Museum of Art in Gwangju, the Swiss Pavilion presents ALONE TOGETHER, a performative piece and visual installation, by the Swiss choreographer Anna Anderegg which premiered at the 2021 Gwangju Biennale, with a team of artists from Europe and South Korea. Originally the body of work was conceived as a film and a choreographic performance. Due to the postponement, the live performance is captured and can be experienced in the form of a spatial video installation specially created for the Gwangju Biennale. The work has received among others the generous support of the Embassy of Switzerland in the Republic of Korea, the Swiss Fund Korea and Arts Council Korea.

In ALONE TOGETHER, four women invite the public to reflect on digital connectivity, online empathy, attention, isolation and absence in a multi-layered narrative. While the eyes of the performers linger through the digital windows on the happenings of the world, the viewers watch their disconnected bodies as they stare at their screens and gradually transform into hybrid living sculptures serving and glorifying the technological devices. We start to wonder at which point the bodies are still in control of their own movements or if the process of automation has taken over unconscious physical actions.

ALONE TOGETHER investigates the narcotic distraction with technology, consumerism and celebrity culture through a body of work that consists of a performance and a film. The performance takes place in an abstract space and a complex five-hour looped time structure. The performed actions are building a network space through which the audience can wander freely.

In her practice, ANNA ANDEREGG explores the interdependence of the human body and its habitat. Her work can be seen as a bodily and henceforth spatial negotiation between closeness and distance. This becomes a conscious mediation between the audience, the dancers, the space and the imagination. Her choreographic works leave a strong visual impact in a multitude of art forms that cluster in unexpected environments, from public space, private apartments, industrial halls, theaters to art museums.

ANNA ANDEREGG studied dance in Bern, Montpellier and Berlin. She won the June Johnson Award (Swiss national dance prize) and received the German Kultur & Kreativpiloten Deutschland award (2013). Anderegg's work has been shown throughout Europe, as well as in Asia and the United States. In 2018, she created the piece "Fragmented", commissioned by the Garage Museum of Contemporary Art in Moscow. "Fragmented" explores self-staging on social media platforms while responding to the space's architecture, designed by Rem Koolhaas.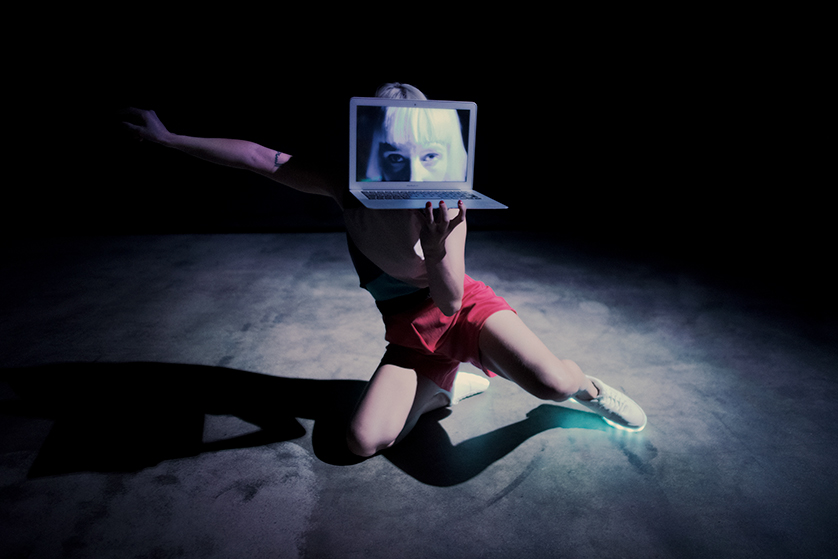 Anna Anderegg, Still image from Alone Together. Photo by Nicole Pfster
Host :

Gwangju Metropolitan City, Gwangju Biennale Foundation

Organizer :

Kunsthaus Pasquart

Co-orgnizer :

Eunam Museum of Art

Team :

Anna Anderegg (Choreography & Performance), Seung Yoon Choi (Performance), Laureline Richard (Performance), Ixchel Mendoza Hernandez (Performance), Diagonal Thoughts, Sara Kim (Architectural Elements & Space Design), Johanna Hilari (Dramaturgy), Marco Barotti (Sound Design), Swan Park (Cinematography), Antoniya Ivanova (Costume Design), Anna-Sara Skarin (Assistant Costume Design), Plastique Fantastique (iSphere), Milica Slacanin (Visual Segments), Pauline Doutreluingne (Text), Jisoo Gook (Production Management), Wael Toubaji / Hyperlapse & Animation, Commune 107 – Sunghyun Park, Euchong Park / Metal Fabrication, Our Labour - Chunghyung Lee, Chung Kihoon / Lighting Design, Nadine Becker (Management)

Support :

Embassy of Switzerland in the Republic of Korea, Swiss Fund Korea

Co-Producer :

HeK, Bildstörung, POISON GmbH

Sponsor :

Arts Council Korea, City of Biel, Canton Bern, City of Detmold, Stanley Thomas Johnson Foundation, Ernst Göhner Foundation, Pro Helvetia
Taiwan Contemporary Culture Lab, Double Echoing
Opening Hours :

2021.02.26. – 2021.05.09. 10:00-18:00 (Closed on Mondays)

Venue :

Asia Culture Center, Creation Space 5

Introduction :
At the invitation of Gwangju Biennale Foundation, Taiwan Contemporary Cultural Lab (C-LAB) together with the National Human Rights Museum (NHRM) and Taipei Performing Arts Center (TPAC) explore through art the democratic developments and pursuit of human rights, freedom and universal values in Taiwan and South Korea.

Themed Double Echoing, the exhibition examines the contemporary histories of Taiwan and South Korea, two Asian democracies bearing twin-like resemblance. Through the ages, the two countries both experienced war, colonization, separation and repressive rule, before taking similar paths to democracy after World War II and the Korean War. Fourteen Taiwanese and Korean artists in 8 groups dedicated to human rights, political art and other universal issues will share the stage at Gwangju's Asia Culture Center from February 26 to May, 2021. Another highlight of the show is the onsite display of pieces from the Green Island Human Rights Art Festival, a joint commission with the NHRM.

Through the multiple echoing of "body/sound" in space and time, Double Echoing is an attempt to create a multi-level immersive experience for the body, looking into similar happenings across contemporary Asia, particularly in South Korea and Taiwan. With their unique perspectives, participating artists take us to reinterpret and redefine the boundaries between body politics and collective consciousness. In addition to physical mirroring, " Double Echoing " has the referential meaning of multiple reflections of sound waves, and it also extends to the multi-level reflective thinking of humans on many historical events. Just like the sound wave/consciousness reverberation, it has been lingering in our bodies and minds, lingering. While some artists decide, by revisiting history, to decolonize the past and shed light on how the state apparatus imposed social constraints on the public, others compose songs to speak the minds of the people. Every revisit echoes with the mind. As we stand on the fringe of time knee-deep in a struggle forward, we open up conscious space for thought.

After the 40th anniversary of the Gwangju Uprising, we hope to make peace with the past by the power of art. Once again, let's be brave and celebrate freedom.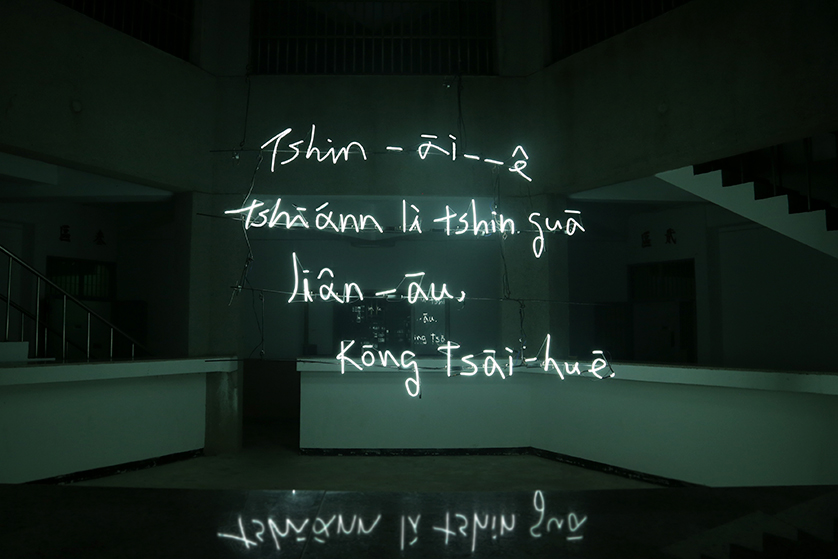 Wang Ding-Yeh, My dear, kiss me and goodbye, 2020, Courtesy of artist and C-LAB
Host :

Gwangju Metropolitan City, Gwangju Biennale Foundation

Co- organizers :

National Human Rights Museum (NHRM) , Taipei Performing Arts Center (TPAC)

Curator :

WU Dar-Kuen

Featured Artists :

TENG Chao-Ming, Val LEE, LIN Yi-Chi, HSU Chia-Wei, WANG Ding-yeh, JUNG Yeondoo (KR), CHANG Li-Ren & CHENG Yuan & RUI Lan-Xin, The Libera Work-Gang (LIN Chuan-Kai, LIN Tzu-Ning, LI Jia-Hung, HSIN Pei-Yi, HUNG Wei-Ling)

Support :

Asia Culture Center (ACC) & Asia Cultural Institute (ACI)

Supervisor :

Ministry of Culture, Taiwan