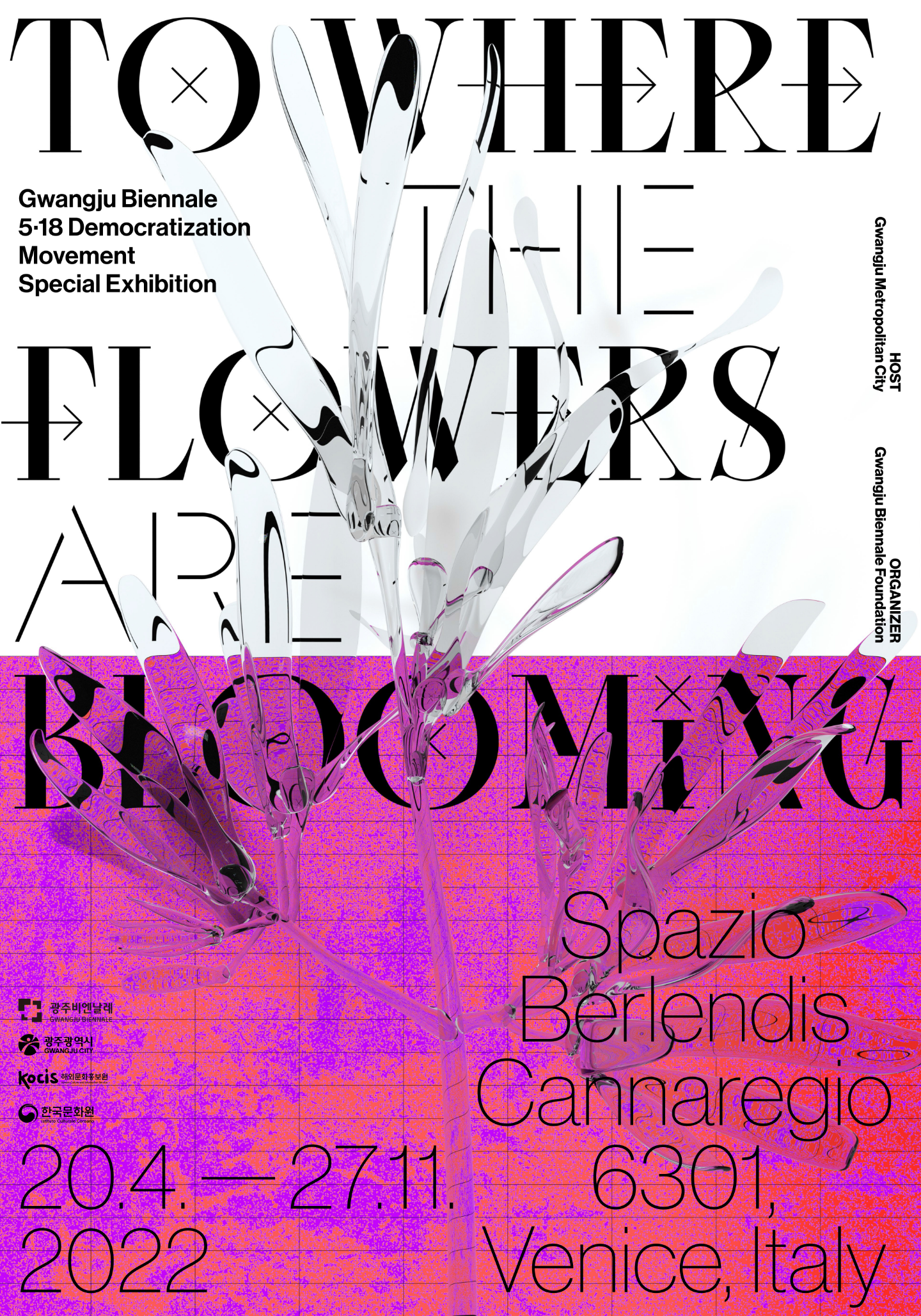 The Gwangju Biennale Foundation and the City of Gwangju present "to where the flowers are blooming" 5.18 Democratization Movement special exhibition in Venice at Spazio Berlendis from April 20 to November 27, 2022.
A celebration of the 5.18 Democratization Movement, "to where the flowers are blooming" began in Seoul, Korea, in May 2020 and toured around Taipei, Cologne, and Gwangju to commemorate the 40th anniversary of the 5.18 movement and reflect on the history and contemporaneity of the spirit of Gwangju, which drove Korea's democratization. After two years of postponement due to the coronavirus pandemic, the exhibition has finally arrived in Venice.
Reflecting on today's humanity, the exhibition presents the spirit of Gwangju as explored through artistic language: its title is borrowed from the phrase "to where the flowers are blooming" from the final chapter of Han Kang's novel "Human Acts", which deals with the lasting trauma of May 1980 on Gwangju and questions which historical memories must be most tightly held onto. The exhibition explores the will of human communities to rise above the vivid memories of anguish and historical tragedy and proceed forward toward a better world.

Curated by the Gwangju Biennale Foundation's exhibition department, "to where the flowers are blooming" is largely composed of three sections.
The archive section curated by Yoo Kyoungnam, a researcher at the 5.18 Institute of Chonnam National University, introduces the legacy of the 5.18 Democratization Movement in Gwangju.

The second section composed of works commissioned by the Gwangju Biennale surveys the city's history, memories, trauma, and spiritual heritage in line with its historical sites, and features works produced through intensive research on the city and the democratization movement by Kader Attia ("Shifting Borders"), Ho Tzu Nyen ("The 49th Hexagram"), and Bae Young-hwan ("Pop Song: March for the Beloved, ver.2").


The third section, which reflects on the democratization movement in Gwangju and modern-day activism, presents works by Hong Sung-dam ("May Print Series"), Noh Suntag ("Forgetting Machines"), Ahn Chang Hong ("Arirang Series"), Choi Sun, Jin Meyerson ("The Politics of Memory"), Kim Chang-hun ("SHINE: Gwangju Soundscape"), Park Hwayeon, Suh Dasom.
At a time when humanity is facing various challenges accompanied by increased discrimination and hate, "to where the flowers are blooming" will serve as an opportunity for us to share our thoughts and seek future directions with artistic language and imagination as our media.
Please find the full press release, images, and more information here.
Press Enquiries
MAY, Communication & Events
Press Office
Claudia Malfitano
claudia@mayvenice.com +39 346 540 1118