The 14th Gwangju Biennale announces the first participating artists and further details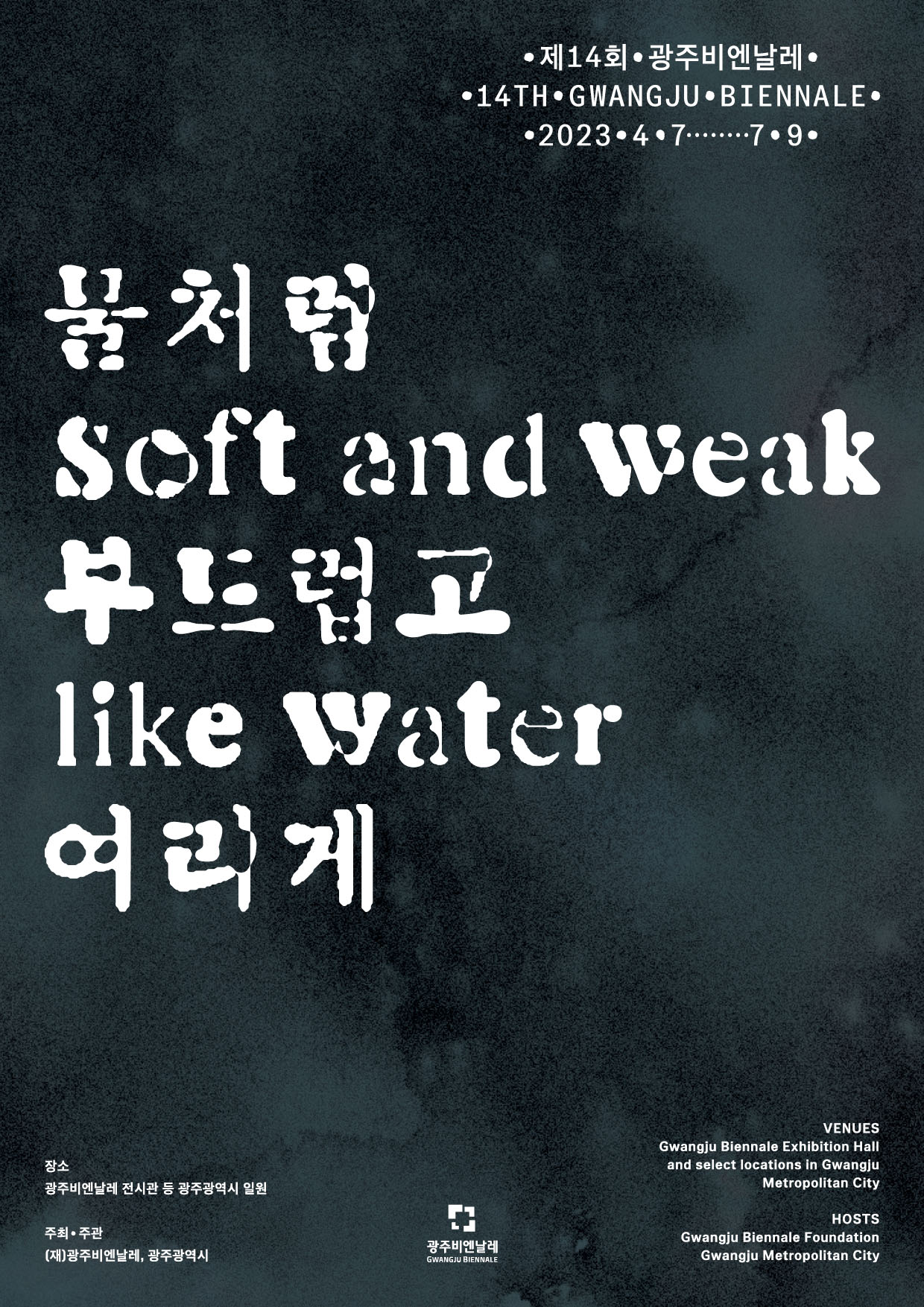 Dates: April 7, 2023–July 9, 2023
Artistic Director: Sook-Kyung Lee
Website: https://14gwangjubiennale.com/
The 14th Gwangju Biennale, soft and weak like water, announces the first participating artists and preliminary details on its curatorial themes, artist selection, artworks, venues and public program. Bringing together around 80 artists from different corners of the globe, the Biennale will present over 40 commissioned projects and new works. The Biennale is curated by Artistic Director Sook-Kyung Lee, alongside Associate Curator Kerryn Greenberg, and Assistant Curators Sooyoung Leam and Harry C. H. Choi.
soft and weak like water takes its inspiration from a chapter of Dao De Jing, a fundamental Daoist text, which speaks of water's capacity to embrace contradictions and paradoxes. The Biennale proposes to imagine our shared planet as a site of resistance, coexistence, solidarity, and care, by thinking through the transformative and restorative potential of water as a metaphor, a force, and a method. It invites artists to engage with an alternative model of power that brings forth change, not with an immediate effect but with an endurance and pervasive gentleness that flows across structural divisions and differences.
The first participants to be announced are: Larry Achiampong, Abbas Akhavan, Farah Al Qasimi, Tarek Atoui, Bakhyt Bubikanova, María Magdalena Campos-Pons, Chang Jia, Latifa Echakhch, James T. Hong, Sky Hopinka, Huong Dodinh, Tess Jaray, Kang Yeon-gyun, Naiza Khan, Yuki Kihara, Christine Sun Kim, Kira Kim, Kim Kulim, Minjung Kim, Soungui Kim, Emily Kame Kngwarreye, Meiro Koizumi, Abdoulaye Konaté, Chila Kumari Singh Burman, Lee Kun-Yong, Lee Seung-taek, Kim Lim, Candice Lin, Tanya Lukin Linklater, Liu Jianhua, Guadalupe Maravilla, Noé Martínez, Mata Aho Collective, Mayunkiki, Alan Michelson, Małgorzata Mirga-Tas, Naeem Mohaiemen, Yuko Mohri, Betty Muffler, Aliza Nisenbaum, Lucia Nogueira, Oh Suk Kuhn, Oh Yoon, Oum Jeong Soon, Pangrok Sulap, Sopheap Pich, Taiki Sakpisit, Thasnai Sethaseree, Dayanita Singh, Buhlebezwe Siwani, Vivian Suter, Yu Jiwon, Yuma Taru, Charwei Tsai, Judy Watson, Alberta Whittle, Robert Zhao Renhui, David Zink Yi.
Themes and Structure
The Biennale will explore its theme through four subtopics: Luminous Halo positions the spirit of Gwangju as a source of inspiration and model for resistance and solidarity; Ancestral Voices highlights transnational artistic approaches for engaging and interpreting traditions to question and challenge modernist ideas; Transient Sovereignty considers the ways in which post-colonial and de-colonial artistic thinking have developed in relation to issues such as migration and diaspora; and Planetary Times explores the potentials and limits of a 'planetary vision' on ecological and environmental justice.
Aspiring to understand seemingly disparate yet equally urgent global issues as one entanglement that affects the whole planet and its inhabitants, soft and weak like water gives prominence to voices that speak about systems and practices of knowledge as alternatives to the ones governed by modernist thinking. Ranging from traditional healing, community-based and collective creation to reinterpretation of indigenous crafts, the Biennale presents discourses and practices that highlight ways of existing together, which help locate solidarity in both our affinities and our singularities.
Participating Artists
Artists who speak with lived experiences
soft and weak like water moves away from privileging singular views and ideas by employing the varied personal histories, experiences, and understandings of each participant. New works and commissions not only respond to the Biennale's themes and proposition, but also reflect on the artist's ongoing practice from an intimately personal, authentic position. For example, Sky Hopinka's practice engages with his lived experience as a First Nations artist, concentrating on places and people that help him rethink his heritage in the present moment. Christine Sun Kim's work stems from her interest in the social dimensions of sound, particularly as they relate to the Deaf community and their systems of communication.
Korean artists from different generations
The 14th Gwangju Biennale features a careful selection of works by modern and contemporary Korean artists, whose varying perspectives on the past, present, and future of Gwangju and wider Korea complicate a homogenous understanding of the nation and its culture. Through a series of research-led commissions and loans from national collections, the Biennale also aims to expand the geographical and temporal framework of what is understood as 'Gwangju spirit'. Chang Jia's projects concentrate on socially prohibited customs as they relate to the female body, overturning implicitly accepted systems of conventions that govern the everyday. Oh Yoon's woodcut prints seek to portray the ways in which Korean society was marred by military dictatorship and consumerism in the postwar era of industrialization and urbanization.
Artists rethinking traditions
Highlighting fluid connections between traditions and cultures across geopolitical boundaries, the Biennale boasts a wide range of works by practitioners who engage with the mediums and languages deeply embedded in their respective cultures. The Biennale has commissioned Noé Martínez to develop a series of ceramic works that draw from sculptural forms found in the Huasteco community, which offers a sustained reading of the artist's ancestral heritage. Tanya Lukin Linklater uses kohkom scarves that are worn by indigenous women of all generations in Canada, addressing the connections forged by a cultural artifact across temporally distant individuals. Abdoulaye Konaté utilizes cultural signifiers of his homeland Mali, such as ancient hunting tunics and hand-dyed cotton, to consider how local traditions can be used to ruminate on universal concerns.
Underrepresented women artists
The Biennale gives prominence to lesser-known women artists from different generations and cultural backgrounds. They include community elders from Aboriginal and Torres Strait Islander lands such as Emily Kame Kngwarreye and Betty Muffler to emerging voices from Almaty and Cape Town, many of whom are shown for the first time in Korea. Buhlebezwe Siwani's practice uses the Black female experience within the South African context to address the lasting impacts of colonization and the suppression of indigenous knowledge. Kim Lim's sculptures and drawings employ geometric forms found in civilizations ranging from Greece and China, developing a mode of transnational thinking that predates discourses on globalization.
Artists working with the history of Gwangju
Asking what it means to think of Gwangju as not only a geography or locality but also a paradigm and a manual, soft and weak like water seeks to reinterpret the waves of change the city and its people generated through contemporary art. Aliza Nisenbaum's newly commissioned project will consist of paintings and drawings based on her collaboration with the Shinmyeong theater group in Gwangju. Sabah-based collective Pangrok Sulap is exploring the enduring legacies of the May 18 Democratization movement through the lens of woodcut printmaking, bringing their participatory, community-led practice to the context of Gwangju. Soungui Kim is developing a multi-channel video installation, in which students from Chonnam Girls' High School recite poems by important historic women writers of Korea. Drawing inspiration from the artistic and cultural roots of Gwangju, soft and weak like water intends to show the city's transcultural resonance with what might appear to be remote and unrelated.
Exhibition Venues and Design
The Biennale's main venue will be the Gwangju Biennale Exhibition Hall's five galleries, devoted to the thematic subtopics. Sprawling across the city, neighboring art institutions including the Gwangju National Museum, and smaller venues with distinct characters like Horanggasy Artpolygon will also host parts of the Biennale. Participating artists will respond to the unique architectural, historical, and cultural contexts of these venues.
The Biennale's exhibition design will be conceptualized by Brussels-based architect Sabine Theunissen and executed in collaboration with Seoul-based architect Jeeyeon Ha. Particular attention will be given to creating environmentally conscious, modular structures that can address the sustainability of temporary, one-off biennales.
Public Program
The 14th Gwangju Biennale will co-host a talk with ArtReview at the Korean Cultural Centre UK in London on October 14, 2022, 6-7pm. During the opening of the Biennale, a major international symposium will be co-hosted with Hyundai Tate Research Centre: Transnational. Several talks and workshops with participating artists and their collaborators will also be organized throughout the course of the Biennale.
Notes to Editors
Press release and relevant images. (
link
)
National press contact: Elisa Lee, elisa.lee@gwangjubiennale.org
International press contacts: Milly Carter Hepplewhite, milly@pelhamcommunications.com, and Yaz Ozkan, yaz@pelhamcommunications.com
Related press releases:
The title of the 14th Gwangju Biennale is soft and weak like water
Artistic Director of the 14th Gwangju Biennale 2023 is Sook-Kyung Lee
Curatorial Team
Sook-Kyung Lee, Artistic Director
Lee is Senior Curator, International Art and the head of Hyundai Tate Research Centre: Transnational at Tate Modern. She curated numerous exhibitions at Tate, most recently Nam June Paik (2019-20) and A Year In Art: Australia 1992 (2021-23). Lee was also the Commissioner and Curator of the Korean Pavilion at the 2015 Venice Biennale.
Kerryn Greenberg, Associate Curator
Greenberg is an independent curator and writer based in London. She was formerly Head of International Collection Exhibitions at Tate. Recent exhibitions she curated include Light (2021-ongoing international tour) and Zanele Muholi (2020), Fahrelnissa Zeid (2017), and Marlene Dumas: The Image as Burden (2015) at Tate Modern.
Sooyoung Leam, Assistant Curator
Leam is an independent curator and art historian based in Seoul, Korea. Recently a co-curator of MaytoDay, part of Gwangju Biennale Foundation's May 18 special exhibition project, she was also assistant curator at Shanghai Project and curated exhibitions at such venues as ASEAN Culture House.
Harry C. H. Choi, Assistant Curator
Choi is an independent curator and critic based in San Francisco, USA and Seoul, Korea. He held curatorial fellowships at the Museum of Modern Art, New York and Museum of Contemporary Art, Chicago and writes regularly for such publications as Artforum and Texte zur Kunst.